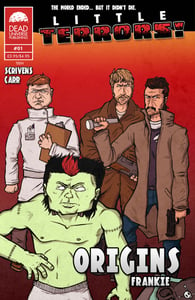 £

3.95
Jon Scrivens - Writer
Brandon J Carr - Artist
16 pages - Colour
Before the world became consumed by necrotic and mystic energy, there was each characters true origin. Some mundane but strangely linked to key forces in play, some just a glimpse into what was and what founded such heroic kids.
Issue 1 features the history (of sorts) of how Frankie Steinberg came to be his superstrong, headstrong self.
16 pages of glorious sepia artwork from the artboard of webcomic hero Brandon J Carr (there is even a blambot font of his handwriting!).